~With Love ABJDs Niece
« previous entry | next entry »
Apr. 18th, 2008 | 10:14 pm
mood: artistic
music: When I Grow Up - The Pussycat Dolls





----------------------------------------------------------------------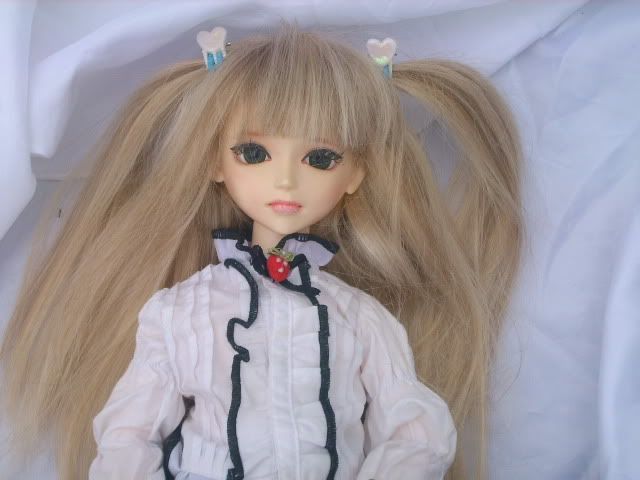 Name: Veronica Nicole-Taylor Zaleski
Meaning Of Name: Bringing Victory to the People
Nickname: N/A
Doll: Angel Region Cotton Baby/ Little Fair Ren Girl (Basic Skin)
Age: Eleven years old
Birthday/Arrival: April 9th (Aries) / April 9th 2007
Gender: Female
Race: 50% Human & 50% Vamprie
Hair color: Monique Colletion: Faith - Light Peach Blonde With Ginger Brown Highlights
Eye color: SoulDoll: Premium Eyes - P97
Likes: Pokémon, Lolita fashion, Music (Everything but Jazz), Disney Princess, Sleep
Dislikes: Elephant aka L the Cat, Being alone, Markers, Chocolate, Eating in Front of Flowers
Personality: Vernoica is a sweet, gentle and innocence girl, who puts others before herself. She very loyal to her friends, if there ask her to do something she would. Her fears of being alone upset her because she thinks about where she livin and something feels she leaved out of things because of where she lives. But don't very call Veronica a girl-girly because she far for it she moreless a tomboy or the girl next door. Veronica is not scared to get her hands dirty by playing under the hooded of a car.
Relationships -
Father: Jeffrey Joseph Zaleski (Friend)
Mother: Artemis "Alice Kira-Kessell" Alyxandria Taylor (Myself)
Brother: Zacharee Anton Zaleski (AngelRegion Little Fair Dana Boy)
Cousin: Carthine-Ann Holly-Miranda Taylor (SoulDoll - SoulKid: Kaite)
2nd Cousin: Hannah Belle Taylor (Cherish Doll - Faith Alley: White Skin)
Friend: Tryst "Aya" Christian Talyor (SoulDoll - Soulkid: Miribyeol)

--------------------------------------------------------------------------------------------------



Name: Zacharee Anton Zaleski
Meaning Of Name: Remembered Of Unknown Meaning
Nickname: Zach, Timothy-Christopher
Doll: Angel Region Cotton Baby/ Little Fair Dana Boy (Basic Skin)
Age: Ten years old
Birthday/Arrival: May 18th (Taurus) / May 18th, 2007
Gender: Male
Race: 75% Human & 25% Vampire
Hair color: Monique Colletion: Claire - Auburn
Eye color: Angel Region: Blue-Gray Acrylic - 16mm Eyes
Likes: Cars, Cosplay, Reading, Billards, Video-Games, Rock Band, Lately 80s Music
Dislikes: People, Small Places, Changing for others
Personality: Zacharee is the one who is alert, aware of what going on around him. When talking to people he never looks at the person he is talk too. Which makes the person he talking feel like he not listing when he is but he also wounding what going on around him. Zacharee favorite thing to do is fix up old cars. His favorite type of car is the Ford Mustang but then a level of cars he likes working on He likes working on cars that are under 1994 because he feel that are no that comptuer. Not a lot of friends but the ones he does have he keeps very close and as always got they backs.
Relationships -
Father: Jeffrey Joseph Zaleski (Friend)
Mother: Artemis "Alice Kira-Kessell" Alyxandria Taylor (Myself)
Sister: Veronica Nicole-Taylor Zaleski (AngelRegion Little Fair Ren Girl)
Cousin: Carthine-Ann Holly-Miranda Taylor (SoulDoll - SoulKid: Kaite)
2nd Cousin: Hannah Belle Taylor (Cherish Doll - Faith Alley: White Skin)
Rival: Tryst "Aya" Christian Talyor (SoulDoll - Soulkid: Miribyeol)
Friend: Dawn Delia-Drake Little (Leeke World - D-type: Happy) Dustin Jason-Rickard Little (Leeke World - D-type: Dream)

--------------------------------------------------------------------------------------------------



Name: Catherine-Ann Holly-Miranda Taylor
Meaning Of Name: Pure-Gracious/ Merciful Plant With Red Berrie Of Admirable
Nickname: Caty-Ann
Doll: SoulDoll: Soulkid - Katie
Age: Eighteen years old
Birthday/Arrival: July 13th (Cancer) / July 13th, 2007
Gender: Female
Race: 50% Vampire & 50% Witch
Hair color: Monique Gold Collection: Ginger - Brownish Black With Honey Blonde Highlights
Eye color: Angel Region: Hazel Acrylic - 16mm Eyes
Likes: Reading, Hang out with her friends and little sister Veronica (even thought Veroncia not her little sister), Fairly Oddparents, Theater, Musicals, Lolita fashion (in all it's forms), acting
Dislikes: history, people who make fun of others, drinking, smoking, gilmore girls
Personality: Caty is a fun, loving teenage. Who needs to be in control. But at times she likes to do with her friends do. She hate when she ask "what do YOU want do today?" and they answer but with "I don't know- whatever you want do?" Even though Veronica is not her real sister she think of Veronica as her little sister. Likes Zacharee, but she thinks he a little to finnime due to the fact he likes to cosplay.
Relationships -
Father: Unknown
Mother: Unknown
Cousin: Veronica Nicole-Taylor Zaleski (AngelRegion Little Fair Ren Girl) & Zacharee Anton Zaleski (AngelRegion Little Fair Dana Boy)
Sister: Artemis "Alice Kira-Kessell" Alyxandria Taylor (Myself) & Hannah Belle Taylor (Cherish Doll - Faith Alley: White Skin)
Friend: Tryst "Aya" Christian Talyor (SoulDoll - Soulkid: Miribyeol)

--------------------------------------------------------------------------------------------------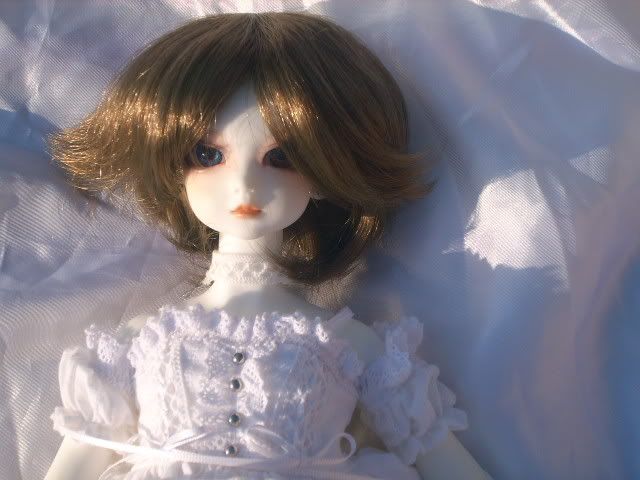 Name: Marcus Arya D'Amato
Meaning Of Name: Warlike that's a Faithful Friend
Nickname: Baby Marcus
Doll: Dollmore: Kid - Sweet Wind Memory - Torrie
Age: Ten years old
Birthday/Arrival: May 26th (Gemini) / May 30th, 2008
Gender: Female
Race: 50% Vamprie & 50% Dragon
Hair color: Leeke World: L-024 M - Dark Milk Brown 18J
Eye color: Leeke World: Around Round Deep Brown - 16mm Eye (Left) & Leeke World: Around Round Ocean Blue - 16mm Eyes (Right)
Likes: Cars, Books, Death Note, ELG, Late 80s Music, Rozen Maiden
Dislikes: Cosplay, People that try to take her friends away, girl-girly stuff
Personality: Marcus, mostly takes after her father Marcus Anton Kessell. She loves working on cars and learn new things. She likes the idea of being super strong like her father one day when ever she talks about it she normal says "I want to become Alice, to meet my Father!"
Relationships -
Half-Sister: Veronica Nicole-Taylor Zaleski (AngelRegion Little Fair Ren Girl)
Half-Brother: Zacharee Anton Zaleski (AngelRegion Little Fair Dana Boy)
Aunt: Catharine-Ann Holly-Miranda Taylor (SoulDoll - SoulKid: Katie)
Friend: Hannah Belle Taylor (Cherish Doll - Faith Alley: White Skin)

--------------------------------------------------------------------------------------------------

Name:
Hannah Belle Taylor
Meaning Of Name:
Graceful Beauty
Nickname:
Hina, Hannah Montana, Miley
Doll:
Cherish Doll: Faith - Alley
Skintype:
White
Age:
Five years old
Birthday/Arrival:
November 27th (Sagittarius) / August 27th, 2007
Gender:
Female
Race:
100% Human
Hair color:
Cherish Doll: C-002E/ 5-Goldenrod
Eye color:
Cherish Doll: Ice Blue Glass - 10mm Eyes
Likes:
Pokémon, Yu-Gi-Oh, Computers, Transformers, Digimon & Cosplay
Dislikes:
People who say bad things about others, Bad Event
Personality:
Sweet, Kind-Heart girl, who as a bad habbit of talking to herself outloud. Hannah looks up to Veronica, as a remolden. Hannah thinks of herself as a in-trainning cosplayer. Hannah is moreless know to be the female verison of her owner. But what people don't know about her is that she a secret part time pop star Hannah Montana.
Relationships -
Father:
Jeffrey Joseph Zaleski (Friend / Onwer)
Mother:
Unknown
Sister:
Carthine-Ann "Caty-Ann" Holly-Miranda Taylor (SoulDoll - SoulKid: Kaite)
2nd Cousin:
Veronica Nicole-Taylor Zaleski (AngelRegion Little Fair Ren Girl), Zacharee "Zach" Anton Zaleski (AngelRegion Little Fair Dana Boy)
Rival:
Tryst "Aya" Christian Talyor (SoulDoll - Soulkid: Miribyeol)
----------------------------------------
----------------------------------------
------------------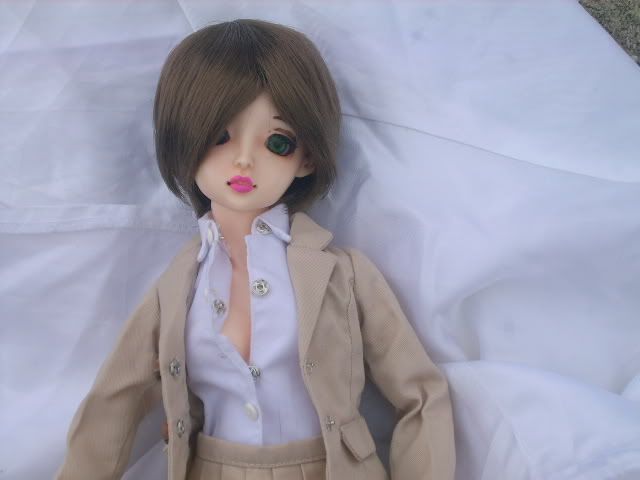 Name:
Tryst Christian Taylor
Meaning Of Name:
Meeting Of Sercet Lovers Follower Of Christ
Nickname:
Aya
Doll:
SoulDoll: Soulkid - Miribyeol
Age:
21 years old
Birthday/Arrival:
??? / October 22th, 2007 (Libra)
Gender:
Female
Race:
100% Human
Eyes:
Leeke World: Half Round Green - 14mm Eyes
Hair color:
Leeke World: L-029A M - Dark Milk Brown 18J
Likes:
Working On
Dislikes:
Working On
Personality:
Working On
Relationships -
Father:
Christopher (Father / Onwer)
Mother:
Unknown
Friend:
Veronica Nicole-Taylor Zaleski (AngelRegion Little Fair Ren Girl) & Zacharee Anton Zaleski (AngelRegion Little Fair Dana Boy), Hannah Belle Taylor (Cherish Doll - Faith Alley: White Skin), Catharine-Ann Holly-Miranda Taylor (SoulDoll - SoulKid: Katie)
----------------------------------------
----------------------------------
~In Progess~
---